[Automatically translated]
Biotech Santé Bretagne is a partner in the European "ACE" project. This project aims to accelerate the homecare innovation ecosystem of the future, in the North Sea region. The first partners' meeting was held on February 13 and 14 in Malmö, Sweden.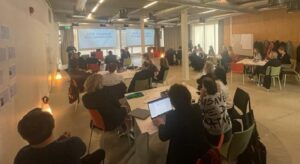 Aging population in the North Sea region and the need to accelerate homecare innovations
The EU is currently undergoing a major demographic shift, with an aging population and an increased need for homecare, particularly in the North Sea regions. Despite this societal challenge, there is little exchange between stakeholders on innovations and best practices in the homecare sector. To date, the European Union reports that one-fifth of households require professional care. The healthcare system and its limited network of medical facilities cannot support the growing number of care users and the demand for high-quality, long-term care, especially as the care workforce is also aging. Most North Sea regions are already experiencing a shortage of qualified personnel, and it is becoming urgent to anticipate users' demands through innovation.
Biotech Santé Bretagne involved in a multi-partner European project to stimulate innovation in homecare
The European ACE project brings together 13 partners from 6 countries (Germany, Belgium, Denmark, France, Netherlands, Sweden), including Biotech Santé Bretagne. It is coordinated by the RISE Research Institute in Sweden. The partners have committed to a three-year collaboration to imagine tomorrow's homecare, involving homecare professionals and citizens receiving care, innovative companies in the sector, academic research and public authorities.
"The project has three main stages. We'll start with a benchmarking phase of existing practices and solutions in homecare, then identify around 30 innovative solutions that could be disseminated. The aim will then be to exchange best practices and publicize innovative solutions for homecare, notably by training professionals in the sector, but also by developing a concept of the "ideal home" equipped for homecare. This model could be duplicated in partner countries and more widely", explains Adeline Jacob, in charge of the ACE project at Biotech Santé Bretagne.
What role will Biotech Santé Bretagne and Cowork'HIT play in the ACE project?
As a regional innovation center, BSB has in-depth knowledge of the innovative players in the homecare sector. We'll be helping to identify needs by involving local players (innovators, users and public authorities) in participatory workshops, accelerating innovations to meet the sector's needs, and disseminating innovations.
CoWork'HIT (Lorient) is BSB's "sub-partner" in this project, contributing its expertise and network in the homecare sector for people with disabilities. Thanks to its showroom, it will also be able to offer a public showcase for the homecare innovations of the future.
–
To find out more > Contact Adeline Jacob, European Project Manager [adeline@biotech-sante-bretagne.fr] or Gorenka Bojadzija Savic, European Project Manager [gorenka.bojadzija-savic@biotech-sante-bretagne.fr]