Bio2actives 2017 – Biographie de Franck Hennequart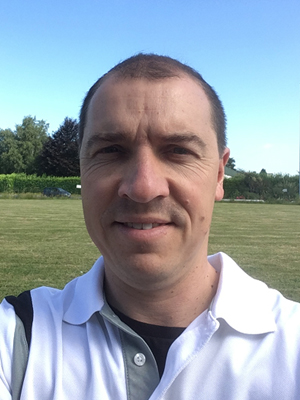 Franck Hennequart is an Engineer, graduated in the Marine Biology and Biotechnology Laboratory of the University of Caen (Normandy, France), specialised in the valorisation of marine resources. Franck initiated his career in France with several aquaculture research and lecturing contracts; he worked then for 3 years in British Columbia in Canada as R&D project assistant for a Provincial organisation promoting partnership between Industry and Research groups for technological transfer in aquaculture. Back in Europe, Franck worked as a consultant for the seaweed industry and has been then appointed Project Coordinator in the Molecular Glycobiotechnology Group of the Dept. of Biochemistry at National University of Ireland Galway.
In parallel, he participated to the creation and the setup of OGT, an Irish company developing novel seaweed extracts. After 5 years in his academic position, Franck has then joined OGT full time as Technical Director. His role in OGT was to assist technical and new product development as well as support any client towards technical applications. Due to the acquisition of OGT by the Spanish company Tradecorp International from the Sapec Group in June 2014, Franck became global seaweed project manager for the whole group.
Very recently, Franck took a new challenge in taking over the start-up ALGAIA, specialised in providing consultancy, analyses and bioactivity tests for the valorisation of algae in many sectors of activities. He is the Director of Research and Innovation in Algaia's research centre based on St Lô in Normandie.
Franck is also share-holder of a French consulting company called SEANEO specialised in management of aquaculture, artificial reefs and Marine Protected Areas.
Franck is regularly invited as speaker to international conferences such as the International Seaweed Symposium, the International Society of Applied Phycology and the Plant Biostimulant Informa conferences.